Following nationwide, brutal storms, Network Rail engineers have delivered a £15m investment across 30 worksites. The works are set to improve journeys for Brighton Main Line passengers, but special attention has been paid to help preserve biodiversity and give wildlife a home along the line.
Wildlife is one of the first things impacted when a storm hits, affecting both animals and their natural habitats. Therefore, the scheme includes the installation of bird and bat boxes; the removal of scrub and non-native species; and reseeding areas with colourful native wildflower mix.
The railway biodiversity programme is currently underway at Haywards Heath, Wivelsfield, Burgess Hill and Hassocks.
Aside of the environmental side of things, vital rail junction which controls the movement of trains in and out of Brighton and the Ardingly freight branch was rebuilt using 8,000 tonnes of ballast and 1,500m of new track, alongside upgrades to a track at Burgess Hill and Clayton tunnel.
At Hassocks, 4,500 tonnes of earth was removed from the railway embankment and 24 concrete sections were lifted into place, creating an underpass that will provide people safe access under the railway.
In a bid to protect passengers from delays caused by landslips, approximately 500m of reinforced protective walls and over 1,000 soil nails were used to stabilise around 1km of embankment at Haywards Heath, Balcombe and Hassocks and one cutting at Lewes.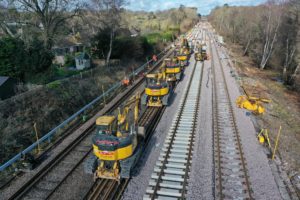 Drainage was also rebuilt in the Balcombe tunnel to prevent flooding and water build up; both recurring issues which have damaged the track and postponed trains in the tunnel since its construction in the 1840s.
In the Clayton tunnel, 200m of brickwork was repaired to prevent leaks and stop loose bricks falling onto the railway.
Network Rail's Route Director for Sussex, Katie Frost, said "dealing with the worst storms we've seen in years was a massive challenge, but our teams battled through and worked more than 35,000 hours to deliver £15 million of investment at more than 30 work sites, and handed back the railway on time for trains to run again."
"This work will deliver vital safety and reliability benefits for passengers on what is among the UK's busiest and most congested routes" the Route Director continued.