The new sea wall project on the South Devon coastline is making great headway, with today marking 8 years since the notorious 2014 storm brutally battered the railway.
The £80m project was funded by the Department for Transport with the aim of protecting the railway and town from rising sea levels and extreme weather. The works are due to be completed in 2023 and include upgrades to Dawlish station, such as an accessible station footbridge.
The first section of the sea wall runs 360 metres along Marine Parade, south west of Dawlish station, and the second section spans across 415 metres, stretching all the way from Coastguard breakwater east of Dawlish station to Colonnade breakwater.
Currently, Network Rail's contractors – BAM Nuttall – have successfully installed 143 concrete wall panels, as well as curved wave returns on top of the panels, forming the stretch of wall between the station building and Coastguard breakwater.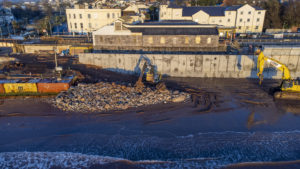 "Dawlish has been a job like no other. The location of the railway, sandwiched between the sea and the town, has made delivering the work incredibly challenging but enormously rewarding" said Yan Sayles, BAM Nuttall Project Manager.
"It has pushed us to the limits of our knowledge and required us to develop new techniques and materials that have never been used in other rail projects before."
So far, the innovative design of the wall panels and curved wave returns, paired with a higher wall, is having a noticeably positive impact keeping the tracks flood-free and train services running.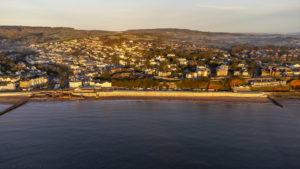 The steps going down to the beach at Coastguard breakwater have been finished, with Coastguard's footbridge expected to reopen later this month; the promenade along the second section is also slowly starting to come together.
Additionally, the carbon impact of the project has been cut by two-thirds, with the sea wall benefitting from the latest construction technology, as low carbon concrete is being used as part of the concrete backfill.
Engineers are now focussing on temporarily diverting the Dawlish river water as part of the work on the new stilling basin, whilst continuing to install the remaining piles between the stilling basin and station building.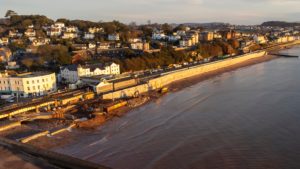 Work is also underway to completely rebuild the seaward platform 1, on top of resurfacing the landward platform 2.
It is expected that the promenade along the second section, and between the first and second sections of sea wall, will be completed and open to the public this summer, allowing people to walk between Dawlish and Dawlish Warren along the entire length of new sea wall.
"The great storm of 2014 is now a major part of Dawlish history and something that will be spoken about for generations to come" said Councillor Val Mawhood, Mayor of Dawlish.
"This awful event showed just how vital this section of the rail network is for the whole of the South West and I welcome the progress which has been made on the new sea wall. This is already having a positive impact on the town and will ensure that history isn't repeated."